Madeline Schadenfreude (As Sweet As Sour Milk)
delectatio morosa
A Roman Holiday
SCROLL DOWN FOR LINKS TO MY WEBSITES!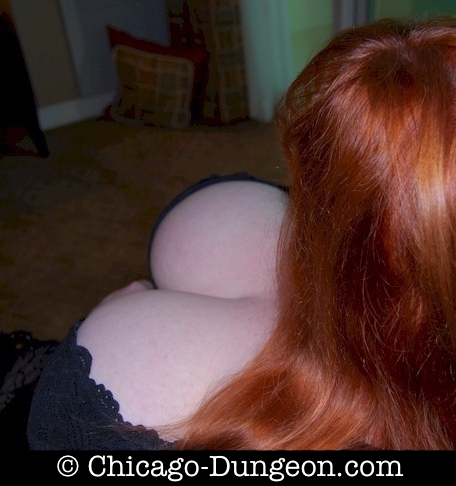 Location
Chicago Dungeon is discretely located on the northwest side of Chicago, off several major roadways. It is less than 15 minutes from O'Hare International Airport (ORD) and The Loop (downtown Chicago), and less than 30 minutes from Midway Airport (MDW). If you prefer to ride the train, the dungeon is easily accessible via the CTA Blue Line or the Union Pacific/Northwest Line Metra (UP-NW). The comfortable, upscale, and private residential location has driveway and garage parking and is in an exemplary, very safe neighborhood.
Music
If you wish to hear an apropos song while you read this page, click on the play button in the music interface shown below.

Play Space
Chicago Dungeon is an amazing professional domination facility that has a variety of themed rooms catering to various fetishes, role plays, kinks, and BDSM activities. The play space contains a carefully curated collection of bondage furniture and equipment that will astound even the most seasoned player.
Chicago Dungeon is my private realm. I am Madeline, an independent dominatrix with over twenty years of experience as a professional dominant, creative fetishist, intuitive role-player, lifestyle mistress, paraphilia lecturer, kinky writer, fetish event coordinator, and BDSM educator. I am the most well-reviewed dominatrix in Chicago. I am a super busty, natural DDD redhead. I define the acronym BBW. I am a big beautiful woman. I demonstrate my remarkable skills and extensive knowledge by inspiring awe in every client I see. I prove my enthusiastic dedication through my obvious enjoyment during sessions.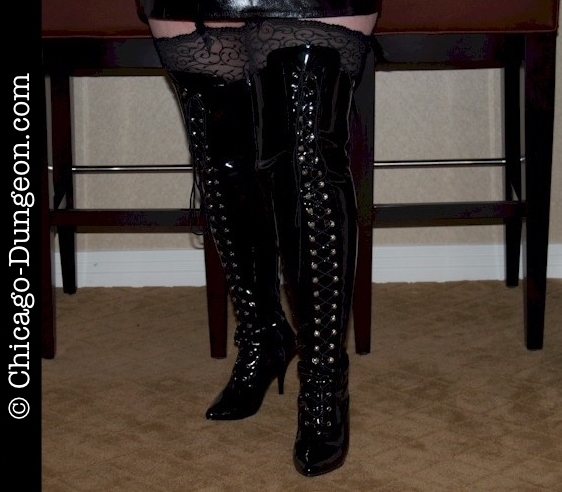 I put great care into creating Chicago Dungeon, cultivating my expertise, honing my skills, and educating myself, in order to ensure your complete satisfaction during your visit. I welcome novice applicants, experienced players, and advanced participants.
If you seek a dungeon in the Chicagoland area, look no further, because you found the best. All the panoply of kink is contained under one roof. My play space is a deliciously inventive domain where I map your psyche to create the perfect experience for you.
If you crave a compassionate mistress who understands your needs, no matter how bizarre, look no further, because I am Chicago's finest dominatrix. I am a truly dominant woman who perceives your desires and knows how to fulfill them. Whether you are a service-oriented submissive seeking an iconic mistress, a gender non-conforming person looking for femme guidance, an age player wanting a mommy, a MedFet lover needing a nurse, a fetishist jonesing for a fix, a heavy masochist itching for a takedown, or a naughty boy desiring the firm hand of a strong woman, I am She. I know what I want, and I am an empath who understands what you need. Together we will achieve psycho-sexual nirvana. It's all in your head. Keep reading to comprehend what I mean.
Deep inside us, in the recesses of our mind, lurk our deepest desires, hidden fantasies, forbidden passions, secret fetishes, and taboo inclinations. The perfect dominatrix possesses the ability to delve into a client's psyche and reveal its buried preoccupations. She must have the appropriate skills to explore the client's proclivities. Skills are nothing without the right equipment, and the right equipment is nothing without a fascinating location in which to use it. She must be mature, elegant, sexy, intuitive, open-minded, non-judgmental, liberal, dominant, assertive, professional, reliable, discreet, cautious, safe, skilled, well-equipped, sincere, and honest. I am all of those things. I am Madeline. I am one. I am many. I am the light of your life. I am the fire in your loins. I am your sin. I am your soul. I am.
Contact
You may e-mail me with pertinent questions.


Telephone Sessions
Phone sessions are available through NiteFlirt. Click on the button shown below, if you wish to do a phone session via NiteFlirt.

Phone sessions are also available through TalkToMe. Click on the button shown below, if you wish to do a phone session via TalkToMe.


Theme Rooms
My facility is divided into many play spaces. Each one has a theme and purpose.
Explore my individual dungeon theme rooms using the banners shown below. They will direct you to my various websites, each featuring a different play area (e.g. The Kinky Klinik featuring Nurse Madeline who specializes in MedFet, enemas, electro-play, rubber, medical role-play, etc.).
Links To My Fantastic Websites
PICK YOUR POISON. CLICK THE CHOICE THAT MOST CLOSELY MATCHES YOUR INTERESTS. OF COURSE, YOU MAY CLICK MORE THAN ONE, IF YOU SO DESIRE.


The Leopard Dungeon - Mistress Madeline (sensual BDSM, domination, role-play, & fetishes)


The Naughty Nursery - Mommy Madeline (infantilism, diaper fetish, ABDL, sissy babies, & age play)


Sissyville Salon - Goddess Madeline (forced feminization, transition guidance, sissy training, & crossdressing)


The Kinky Klinik - Nurse Madeline (medical fetish, enema play, & white room fantasies)
The following sites are under construction. Please, bear with me.



The Bawdy Boudoir - Lady Madeline (domestic discipline, OTK spanking, & cuckolding fantasy)


The Rubbertorium - Gummi Madeline (Latex bondage, inflatables, military discipline, & rubber fetish)


Morningwood Academy - Headmistress Madeline (private school scenarios, educational setting role-play, & discipline of the pupil)


The Foot Parlor - Ms Madeline (trampling, crushing, ball-kicking, leg worship, foot, shoe, & boot fetishes)


Harsh Realm - Domina Madeline (extreme corporal punishment, elaborate bondage, & severe physical & mental torment)


The Sanctuary - Sister Madeline (religious role-play, confession, and penance)